Outdoor Classrooms for learning outside the classroom initiatives
At the Hideout House Company, we are always looking for intelligent and unique ways to improve outdoor learning for our customers. An Outdoor classroom represents a fantastic opportunity for schools to do something creative and interesting with their outdoor spaces – something that adds to the experience of school life for children while aiding their development.
We also specialise in designing all kinds of eco outdoor classrooms for schools who want to do more with their on-site facilities and who want to promote their outdoor learning programme including their forest schools initiatives – schools that also have an important agenda when it comes to the environment. Every outdoor classroom therefore we produce is created with the environment in mind and we have even created our own renewable energy system involving wind, solar and pedal power! We want our products to be both educational and fun so that children will enjoy using them and will want to participate time and time again.
We pride ourselves on offering one of the most comprehensive ranges for schools with a whole host of additional options for them to choose from – namely the sizes and shapes on offer (octagonal, rectangular and square), the additional optional extras which can be found on the page below and the different materials we use. And we are always on the look-out for new ideas –  so please free to contact us.
We are also happy to put you in contact with other schools who have bought our buildings and can send you our full information pack and brochure. Just go to our contact page on this website. And if you would like to join our Ambassador programme where you can benefit from our customer referral system, we would love to have you on board.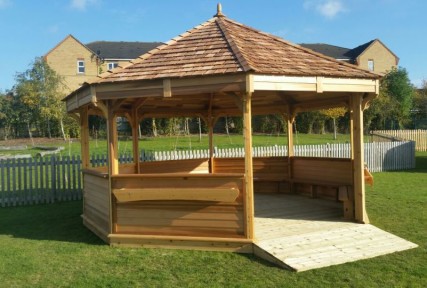 A comprehensive range of outdoor classroom buildings with a whole host of optional extras designed for outdoor learning skills