Outdoor spaces play a hugely important role in school life, aiding in the development of pupils by providing important facilities for sports, play and varied lessons. At Hideout House, we're committed to helping forward-thinking schools improve their outdoor spaces in order to provide a better learning experience for their students.
An outdoor play area designed and equipped by Hideout House could greatly enhance the way your school operates. We are committed to upholding the environmental image of your school by supplying cost-effective wooden playground equipment of an excellent quality that has a low impact on the environment.
High quality children's playground equipment is a great way for schools to make the most of their outdoor spaces and to strike the perfect balance between work and play. At Hideout House, we understand that getting kids active out of doors helps to focus their minds in the classroom.
This is why we supply such a fantastic range of playground equipment for schools. We can work with schools to furnish a given outdoor space with the kind of playground that enhances their reputation within the local community, makes them more attractive to students and parents and improves their playtime agenda.
School playground equipment has to satisfy a number of important factors. It has to be safe, fun, environmentally-friendly and highly durable. These are attributes that we pride ourselves on delivering here at Hideout House thanks to the sheer quality of the supplies we work with. They've made us one of the UK's leading playground equipment suppliers.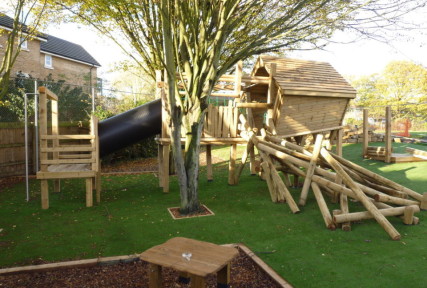 We are able to create bespoke climbing structures, ramps and slides, trim trails and zip wires to suit all spaces and budgets.