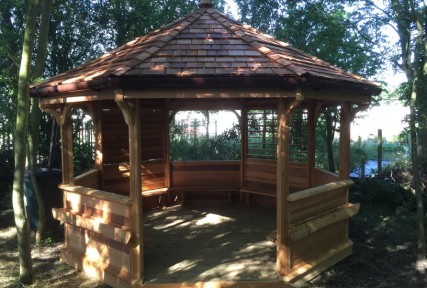 Products for a Forest Schools Programme
The philosophy of Forest Schools is to encourage and inspire individuals of any age range through an innovative and long term approach to outdoor learning in a woodland or outside environment. It teaches children to value nature and its cycles at first hand and to foster an interest in the outdoors. It addresses the loss of contact with nature and concerns that children of the cotton-wool wrapped generation need to both address and take risks. As this outdoor learning initiative is becoming ever more popular in UK schools (can work in urban environment settings too  – anywhere with access to some trees and space), we are now offering a comprehensive range of products which complement this theme of open-air education concepts. These products range from making dens from a living wall tipi where you can grow climbers up the side, building fire-pits, "pods" to be used for both accommodation and shelter, rustic outdoor classroom buildings, fire pit shelters with a hole in the roof for smoke ventilation, pop-up tents (which can be personalised with on canvas printing) and dipping ponds. We also feature a nature watch hut (complete with introductory pack from the RSPB) to allow children to be very close to nature.
We appreciate that every Forest Schools setting is unique and that a school needs to design to meet the needs of the group and to fit the environment that you have to work in. For example your site could have no fixed features at all or could offer fire pit areas, dens, shelters, water collection and bio-diversity monitoring areas.
If your school has any other ideas for products or concepts that are missing from our current range, then we would love to hear from you.
For further information on the Forest Schools programme in the UK, please see the below link to the FSA. This site gives very useful information on training courses as well.
A unique and creative range of indoor/outdoor grass covered seats for imaginative role play