Eco Outdoor Classrooms are both a functional and educational building all rolled into one. The Eco Classroom offers shade and shelter at playtime but it can also be used as an outdoor teaching area. Children are able to relax and learn in a shaded environment within the school grounds whilst at the same time learning about the core principles of the Eco Schools programme including the creation of clean energy, water harvesting, biodiversity, planting, recycling and healthy living.
Features and Benefits
Available in four different sizes – octagonal 3m, 4m, 5m & 6m (also square and rectangular if so required)
Manufactured out of cedar wood which requires very little on-going maintenance or treatment and typically lasts a lot longer than traditional timber such as pine
Four choices of roof – high quality marine PU coated canvas, close board roofing, cedar shingle tiles or a living sedum roof
Building options such as opening/closing upper louvre panels (to enclose the building if so required), solid infill wall panels and upper trellis panels
Vertical balustrading option (as opposed to standard solid bevel siding)
"Floorless and sideless" versions also available
Full eco option pack to include water butt and guttering, eco pond and surround, wind turbine, solar panel and monitoring unit pack (meter display wind and solar charge currents, load current and battery voltage), weather vane, bird box, insect nest and 3 x planters – see Optional Extras page
Unique electric dynamo bikes which the children have to pedal in order to create power – package to include A Frame Generator bike, power supply unit including speaker, amplifier, portable energy board with embedded LED display, cable set, disco ball and You Watt? poster showing the amount of kws required for certain household items (please click on the Pedal Powered Outdoor Classroom to see this equipment in action)
Option to have 50% grip deck for an extra non-slip surface
Full delivery and installation services
Option to have school name and logo printed on the canvas roof (2 colour only)
If you or we can get a company to sponsor or contribute financially towards your eco classroom, then we can print their logo on the canvas as well. See below in Additional Images
The above item cost is based on good site access and a suitable flat and cleared base to install feature onto. We can quote separately for additional base work as a separate cost if so required.
"I can only praise the work your company have done and I am still working on getting another grant from the local Windfarm to finance the provision of your Wind turbine/ solar panel, energy source to provide power to the outdoor classroom. I have worked with a number of companies in the last few years, some I have used again. Others, I would be wary about using and some I wouldn't touch with a bargepole. Your guys just came and got on with the job. There were some minor issues with how to make things work, but they just talked with me and we sorted a solution. They were always polite and respectful. Whether or not we acquire any commission, I can only recommend your company and the service we received".
John England, Thorne Brooke Primary School, Doncaster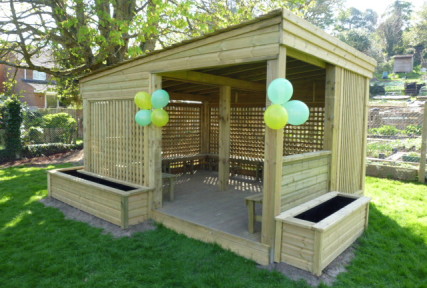 The Eco Outdoor Classroom 4m x 4m